What do your Fundraising Donations to IICACC Support?
Since IICACC was established, the Coalition has done over one hundred presentations to over 2500 attendees at schools, service organizations and community-based education classes. Items needed for each of these presentations are:
Printed Presentation and Marketing materials for all attendees.
A power point projector and speakers to facilitate more effective presentations.
Consistent research on constantly changing predator tactics and newly developed social apps.
Ongoing development of new and effective methods for Statewide educational efforts.
IICACC has participated in over 50 community events around Idaho requiring:
Marketing materials.
Educational materials.
Give away items for children.
Pop-up tent, Signage & Banners.
Occasional Event rentals where required.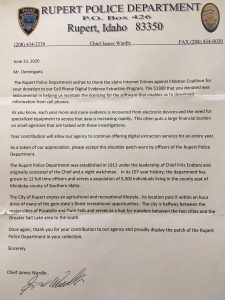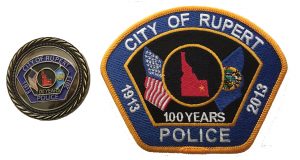 We love helping those who help keep children safe!
This is a letter from the Rupert Police Department thanking us for $1300 we donated to them so they could purchase software that allows them to download evidence from cell phones.
(Click on images to enlarge)
ISP was grateful for a contribution from the Idaho Internet Crimes Against Children Coalition @IICACC – we are partners in detecting, investigating and prosecuting child predators. Funds will be used by ISP Cyber Crimes Unit to purchase software to analyze suspects' computers. pic.twitter.com/EYWtcEiKPl

— Idaho State Police (@IdahoStPolice) June 14, 2018