You Can Make a Difference
The use of the Internet by child predators has become a World-wide epidemic that poses a serious threat to all children including those that live and go to school in every community in the State of Idaho. Their only real protection is awareness and active vigilance by their parents, guardians, teachers and all caretakers of children in their lives. Without this level of concern and responsibility, every child in possession of devices with Internet access is a potential victim of child pornography and sexual abuse by Internet child predators.
What Is IICACC?
The Idaho Internet Crimes Against Children Coalition is a community-based 501(c)(3) charitable, non-profit organization in the greater Treasure Valley exclusively dedicated to Statewide community awareness, education, and prevention of Internet victimization of children by child predators. It is committed to maintaining and sharing the most recent data concerning the activities of such predators and promoting strategies to best detect and protect Idaho's children against such criminal activity. Further, the Coalition also stands ready to provide assistance with needed resources for local law enforcement agencies with their investigative efforts to identify, arrest and successfully prosecute all Internet child predators.
Although similarly titled, the Coalition is not a law enforcement agency and is not affiliated with the Idaho Internet Crimes Against Children Task Force (ICAC) which is a law enforcement agency under the direction of the Idaho Attorney General's Office.
A Registered Charity
We are an approved charity on AmazonSmile and Fred Meyer Community Rewards. Click the buttons below, and search for "Idaho Internet Crimes Against Children Coalition" to switch your chosen charity and donate a percentage of all your purchases to our cause.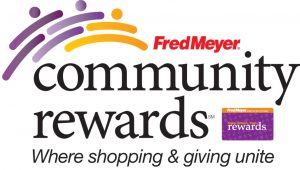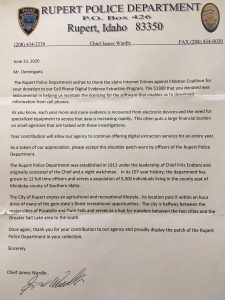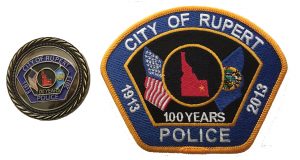 We love helping those who help keep children safe!This is a letter from the Rupert Police Department thanking us for $1300 we donated to them so they could purchase software that allows them to download evidence from cell phones.
(Click on images to enlarge)
ISP was grateful for a contribution from the Idaho Internet Crimes Against Children Coalition @IICACC – we are partners in detecting, investigating and prosecuting child predators. Funds will be used by ISP Cyber Crimes Unit to purchase software to analyze suspects' computers. pic.twitter.com/EYWtcEiKPl

— Idaho State Police (@IdahoStPolice) June 14, 2018